Hey peeps! Long time no blog! My laptop is hating me lately so it's with the IT guy at my office being fixed. I am currently blogging from my sister's laptop in sunny California! I am so excited to be here, this trip is years overdue. I flew in Thursday afternoon and after a 6 hour flight I was definitely ready for some food.
We started Thursday with a quick meal at
Vegan World
in Studio City. The inside is a little rundown looking but still very clean. When I say rundown I mean that it could certainly use a coat of paint, some new counters, and a fresh look. Also, they have a picture menu up on the wall with very poor and outdated photographs. It certainly doesn't do the food any justice at all. But, the menu is pretty large and very cheap.
I got the Beef Burger and added avocado and soy cheese and my sister got the Pepper Steak Burger. They were both a little salty but very delicious. The "beef" was little pieces, not a patty like you would expect.
I spoke with the owner because I wanted to know what kind of meat alternatives they were using because I went to an Asian vegan restaurant here in Mass before and the "meat" was very similar and they purchase from
May Wah
. She told me they get it from USA Soy Meat. I couldn't find anything online about them and she did have a very hard to understand accent so I could also be mistaken.
The burger was so good but the Thai Iced Tea we got was even better. I love going to Thai restaurants and the one thing I miss is being able to have it because it's made with dairy. Today is my last full day in LA and I have lots planned for it. I am hopefully meeting up with a fellow
PPKer
for lunch, doing some shopping and spending some quality time with my sis when she gets out of work. I do have a Halloween post that I am going to do but not until I get back to the East Coast.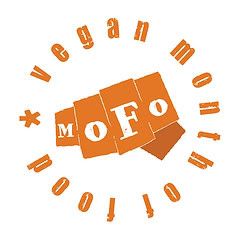 Also, today is the beginning of
Vegan MoFo!
For the entire month, vegan bloggers like myself blog at least 5 times a week but many aim for everyday. This is my first year participating and I am very excited. I have some awesome things planned so stay tuned!